Primary 6
Welcome to Primary 6!
In P6, our hard work is very rewarding because as well as learning about important subjects we can engage in fun activities too!
Our teacher is Miss McGrugan. Our classroom assistant is Miss Coulter (Wednesday and Thursday).
We have a very enjoyable time learning about the World Around Us.
The various topics we study this term are:
Ancient Greece
American Adventure
Keep checking back here for updates about our learning in class.
P6 Information
School Times
| | | |
| --- | --- | --- |
| Class | School day begins | School day finishes |
| P6 | 08:45am | 2:40 (2:00 on a Friday) |
P.E
Our PE days our Wednesday and Friday. Tennis is a Thursday.
Pupils should come to school in their school tracksuit or P.E kit on both of these days.
Latest Photographs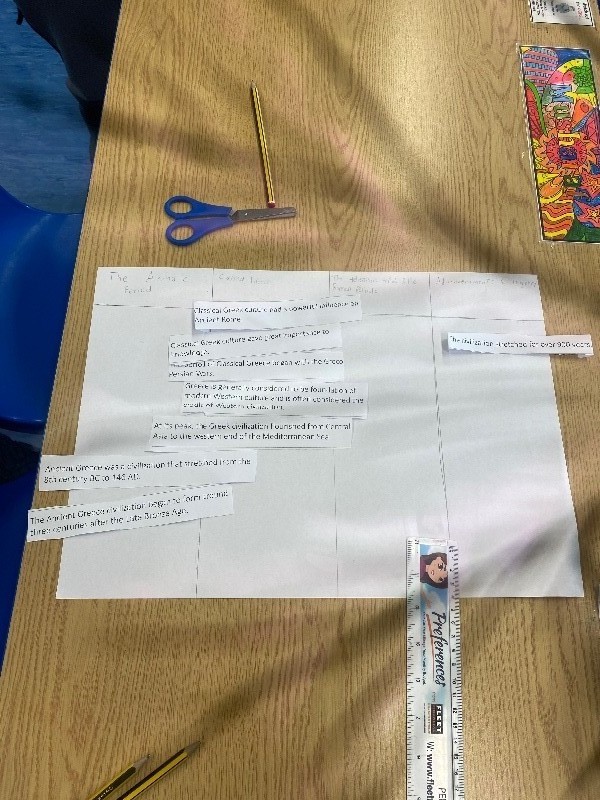 Curriculum Information
Here are some of the topics that we will be covering in Term 2A.
Numeracy:
Place value
Read and order numbers 1 – 10,000,000
Multiplying by 10/100 & dividing by 10/100
Rounding to nearest 10/100/1000 working to millions
Revision of addition and subtraction
Revision of multiplication and division table facts
Revision of multiples, factors, prime numbers, square numbers and cube numbers
Creating graphs
Our focus this term is Fractions
Compare and order fractions whose denominators are all multiples of the same number
Add and subtract fractions with the same denominator and multiples of the same number
Recognise mixed numbers and improper fractions and convert from one form to the other
Literacy:
Grammar
Punctuation: capital letters, full stops, commas and exclamation marks
Parts of speech to include: the different types of nouns, adjectives, verbs and adverbs
Recap pupil's existing phonological knowledge and introduce new spelling patterns
Common and proper Nouns
Comparative and superlative adjectives
Verb Tenses
Homophones
Reading
Class novel and a range of shared and guided texts
Comprehension
Teaching strategies of predication, inference and summarising using fiction and non-fiction texts
Spelling
Activities including vocabulary building dictionary skills related to daily spelling
Writing
Genre focuses of informational writing, recount writing and report writing
Wheatfield Primary and Nursery School, 63 Alliance Road, Belfast, Co. Antrim. BT14 7JE | Phone: 028 9039 1961