Primary 7
WELCOME TO PRIMARY 7
Thank you for visiting our class page. Here you will get an insight into lots of the learning activities that the children in our class take part in throughout the year.
Adults in our class:
Mr C Darragh (Class Teacher)
Miss H Blair (SEN Adult Assistant)
Miss E Gillespie (SEN Adult Assistant)
P7 Information
HOMEWORK SCHEDULE:
| | | | |
| --- | --- | --- | --- |
| Monday | Tuesday | Wednesday | Thursday |
| | | | |
| | | | |
| | | | |
Pupils doing the AQE examinations will have separate AQE based homework each week
AQE PREPARATION:
Children undertaking the AQE examinations will have the opportunity to attend revision sessions on the following days and times over the next few weeks:
| | | | | |
| --- | --- | --- | --- | --- |
| Monday | Tuesday | Wednesday | Thursday | Friday |
| 8.15am - 8.45am | 8.15am - 8.45am | 8.15am - 8.45am | 8.15am - 8.45am | 8.15am - 8.45am |
| 2.40pm - 3.30pm | 2.40pm - 3.30pm | 2.40pm - 3.30pm | 2.40pm - 3.30pm | |
OTHER CURRICULAR EVENTS:
| | | | | |
| --- | --- | --- | --- | --- |
| Monday | Tuesday | Wednesday | Thursday | Friday |
| Orchestra Tuition | PE Kit (Mr McManus) | Swimming | Orchestra Tuition | PE Kit (Neil) |
| | | Orchestra Tuition | | |
Latest Photographs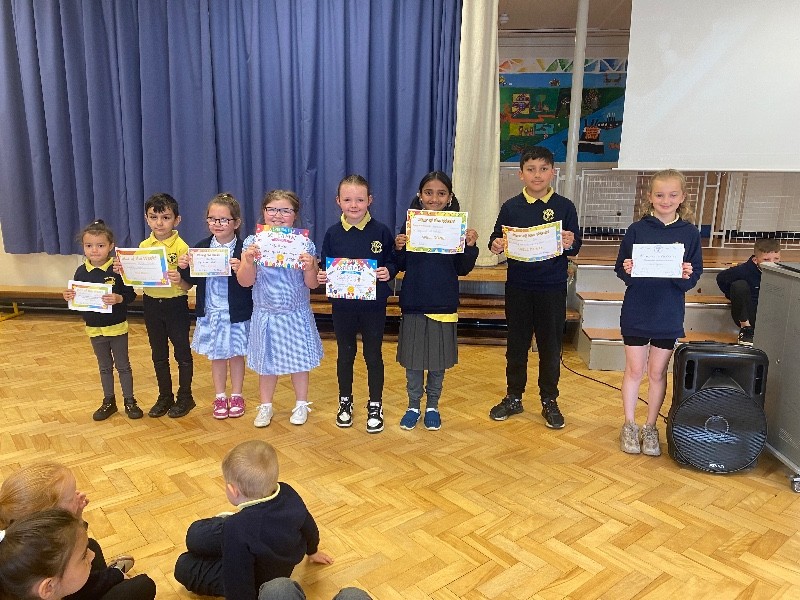 Class Photograph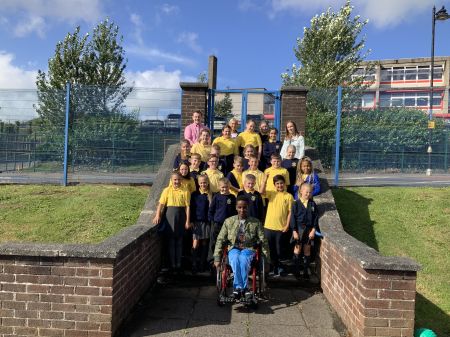 &nsbp;
Curriculum Information
January - February 2023
Areas of Learning

Learning Experiences (Pupils will…)

Language and Literacy

Talking and Listening

· Sustain conversations linked to the Titanic WAU topic with other pupils in the classroom and adults.

· Show understanding by making relevant comments or asking relevant questions.

· Follow the main points of a discussion and be able to recall the points in order.

Spellings

· Consolidate pupil's existing phonological knowledge and introduce new spelling patterns: <-ation>, <ch> and <che> for /sh/, <sure>, <ture>, <-ible> and <-ate>.

· Read the spelling words with pupils, giving context and definitions of them, asking pupils to highlight the target sound.

Reading

· Independently use reading strategies during whole class work, small group guided reading and independent activities in the context of WAU topic Titanic and in class novel The Iron Man.

Writing – Recounts and News Reports

· Write the first chapter of a passenger's recount using descriptive language.

· Write the second chapter of a passenger's recount, creating suspense.

· Write the final chapter of a passenger's recount focusing on the change of mood.

· Script and prepare a televised news report to tell the story of the Titanic disaster.

· Film and edit together a news report.

· Edit report scripts into a written newspaper report noting key differences.

Mathematics and Numeracy

Measures – Converting Units

· Read, write, and recognise all metric measures for length, mass, and capacity.

· Develop their estimation skills in context and decide when it is appropriate to use different metric units of measure.

· Choose the units of measure that would be the most appropriate to measure the items.

· Estimate how much juice the glass holds and estimate the height of the door frame.

Shape and Space – Perimeter, Area and Volume

· Explore that shapes with the same area can have the same or different perimeters.

· Find and draw rectilinear shapes that have the same areas.

· Use their knowledge of factors to draw rectangles with different areas.

· Identify that a right-angled triangle with the same length and perpendicular height as a rectangle will have an area half the size.

· Use the formula (base x perpendicular height ÷ 2) to calculate the area of a variety of triangles where different side lengths are given and where more than one triangle make up a shape.

· Investigate the link between the area of a rectangle and parallelogram by cutting a parallelogram so that it can be rearranged into a rectangle.

Statistics

· Understand that line graphs represent continuous data and not discrete data.

· Read information accurately, including where more than one set of data is on the same graph.

· Understand how to calculate fractions of amounts to interpret simple pie charts.

The World Around Us

Titanic

· Discuss and explore the timeline of the Titanic and her maiden voyage from Southampton.

· Investigate sources of information which tell us about the Titanic and the people on board.

· Evaluate what life was like aboard the Titanic for each of the different passenger classes.

· Introduce several people who were on board the ship and find out who they were.

· Debate about why so many people lost their lives in the Titanic disaster.

· Recall the efforts that were made to raise the Titanic's wreckage from the Atlantic Ocean.

· Plot the course of the Titanic, including the point that it sank and identify key areas for icebergs.

· Investigate what an iceberg is and why they float.

· Observe why a ship floats but a paper clip sinks i.e., buoyancy.

· Use perspective and foreshortening to create a painting of the Titanic.

· Explore the use of colours to create effects and mood.

· Create a 3D model of the Titanic using recycled materials or other materials such as Lego.

· Reflect on what has changed since the Titanic disaster and how the incident influenced these changes.

· Explore the invention of Morse code and how it was intended to save people's lives the night that the Titanic sank.

· Experiment with different conditions which affect how an iceberg melt.

P.D.M.U

Thinking and Feeling / Fit for the Future

· Understand and value the elements that contribute to a safe and healthy lifestyle.

· Examine society's attitudes to alcohol and how it helps inform their attitudes and behaviours in relation to the substance.

· Talk about and value other people's opinions.

· Evaluate different ways to minimise harm from hazardous substances.

I.C.T

Digital Audio: Music and Sound / Online Communication

· Plan and create a sound or music project.

· Find sounds and record their own to add to their projects.

· Input their sounds or music files in the correct order.

· Work with others online safely and using acceptable online behaviours.

· Export their project into another app e.g., an existing iMovie project.

· Send and reply to emails using sensible online behaviour.

· Integrate self-produced assets into their production.

· Add to an online discussion in an appropriate VLE (Virtual Learning Environment).

· Email their work as an attachment or upload it online to platforms such as Google Classroom or MySchool.

· Listen to their project and discuss how they could improve it, make an agreed changes and save again.

R.E

· Explore the different types of miracles performed by Jesus.

· Review examples of Jesus's power over death in the Bible.

· Examine the narrative of Jesus healing Jairus's daughter.

· Illustrate Jesus calming the storm (Mark 4:35-41)

· Debate whether miracles still happen today in modern society.

P.E

Basketball

· Pass the ball in a variety of different ways with confidence and control.

· Move with the ball at speed.

· Mark, track, and cover when defending.

· Keep possession of the ball when faced with opponents.

· Work together as a team, showing good awareness of others.

· Apply basic principles for attacking and defending in game situations.

Hockey

· Play games understanding different positions and roles.

· Use different passes whilst on the move.

· Shoot with confidence and control.

· Dribble a ball at speed whilst changing direction.

· Decide the best way to defend in a game situation.

· Decide the best way to attack in a game situation.
Wheatfield Primary and Nursery School, 63 Alliance Road, Belfast, Co. Antrim. BT14 7JE | Phone: 028 9039 1961